Established in 1996 to provide grants in support of organizations engaged in activities and programs in the areas of Arts & Culture, Autism, Education & Literacy, Health & Human Services and Development & Enrichment of Jewish Life
The J-Team Teen Philanthropy Program

The J-Team Teen Philanthropy program empowers teens to make positive changes in the world through the exploration, engagement and support of non-profit organizations. A select group of high- school aged students meet monthly to learn about philanthropy, develop comprehensive strategies for negotiation and advocacy, meet representatives of nonprofit agencies, engage in community service, and make charitable donations.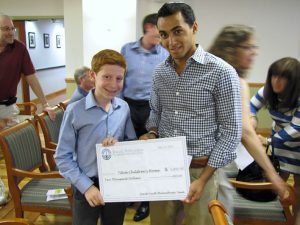 Teens gain exposure to pressing social issues and learn how to tackle these issues through the core Jewish values of tzedakah (charity/ justice) and tikkun olam (repairing the world). The teamwork approach to philanthropic giving makes this program a win-win for our community's teens and nonprofit agencies and gives teens the tools to begin a life of giving.
Each teen participant makes a donation of $125, which is pooled and distributed at the end of the year. The Federation runs the program and provides a match, which was generously doubled by a grant from the Karma Foundation.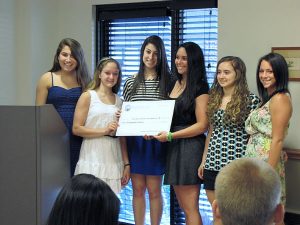 J-Teamer Sarah's story is evidence of the sense of community created amongst participants. As a volunteer for Friendship Circle, Sarah developed a passion for working with her peers with special needs. As Sarah began to research programs that worked with those who are differently- abled, she discovered Yachad and Special Strides.
Innovatively, Sarah wondered whether the two organizations could work together to have the greatest impact possible on the community. Sarah was able to facilitate a discussion between these two organizations. All of Sarah's hard work has made the community more inclusive for those with all different levels of ability.
Since the program's inception in 2009, over 160 teens have distributed over three dozen grants to organizations that work to combat hunger, homelessness, poverty, and advocate for social-justice and at-risk youth. In 2018 J-Team continues to establish a core of teen leaders who develop exceptional team-building and advocacy skills as they prepare to apply for college and beyond.
The Karma Foundation funds organizations that work to provide food to people in need around the world.